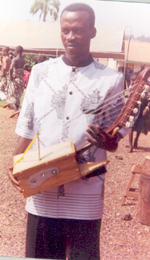 Indigenous Performing Arts in Ghana
INGENUOS PERFORMING ARTS IN GHANA

The performing arts include music, drama and dance. Most Ghanaian dances originate from social or religious traditions. For an outsider it can take a while to get the meaning of the dance and movements, but with a little explanation one will soon learn that the Ghanaian dances offer more than pure entertaining. Indigenous music and dance and related history have been passed orally from generation to generation. This is one of the reasons why singing and dancing have been so important in communicating culture of the people. Music and dances are used at nearly every social, cultural or religious event. Sometimes they tell the story of a people and other times they are performed to give moral "instructions" on how to live a good and harmonic life.

Music

Traditional music in Ghana is based on two factors: ethnic groups and geography. The country is home to numerous ethnic groups, whose musical styles can be put into two main categories: southern and northern.

Southern

Inhabited by ethnic groups speaking broad Kwa and Gbe language groups. The cultures of these fertile forested regions were isolated from Sudanic influence that dominated the North. The music of southern groups are highly associated with social or spiritual function, and rely on complex polyrhythmical patterns played by drums and bells, as well as a stronger emphasis laid in harmonized song. An exception to this rule is the Akan tradition of praise-singing with the Seperewa harp-lute, a now dying genre which had its origins in historic influence from the griot traditions of the Mende empires to the north-west.

Under the Southern category, there are two main groups: * Akan and Ga ethnic musical genres, including Fante, Ashanti and Akuapem groups. This category is known for complex court music, including the Akan atumpan and Ga kpanlogo styles, and a huge log xylophone used in asonko music. The 10-14 string Seperewa harp-lute and its musical genre is now rare, being replaced with the acoustic guitar.

Northern

The music styles of this region, which lies in the sparsely vegetated Sudan and Sahel grassland belts, are generally grouped into a larger Sahelian West African musical umbrella category (along with Burkina Faso, Mali, Senegal, northern Nigeria and Niger), due to ethnic migrations and cultures historically crossing borders from the rest of the region into the country during the Songhai Empire and Mossi empires abroad, and the indigenous Dagomba, and Mamprussi states. Peoples of this region base musical composition on stringed, wind, melodic as well as complex polyrhythmic composition with a variety of drums and bells. As with other Gur and Mande groups in West Africa, a long history of griot praise-singing traditions exists among the various groups in Northern Ghana. Music in the northern styles are mostly set to a minor pentatonic scale. Two main areas can be identified under the northern category:

* North and Northeastern Ghana is known for talking drum ensembles, goje fiddle and Molo lute music, played by the Gur-speaking Frafra, Gurunsi and Dagomba nations, as well as by smaller Fulani, Hausa, Mande-speaking Busanga and Ligbi peoples.

* Upper-Northwestern Ghana is home to the Dagara, Lobi, Wala and Sissala peoples, who are known for complex interlocking Gyil folk music with double meters. The musical traditions of the Mande Bissa and Dyula minorities in this area closer resemble those of neighboring Mandinka-speaking areas than those of other Upper-Northwestern groups.

According to Collins, varieties of folkloric or folkloric-inspired Ghanaian musical genres include the following:

. Traditional music, dance, drama and poetry that have been created either communally or so long ago that it is beyond the reach of copyright (75 years since the death of the composer(s)). This is 'folklore' in the sense defined above by Dr. Abdullah above. . Modern neo-traditional genres (such as Kpanlogo, Akpalu, Borborbor, among others) whereby individual or group composers can be identified and fall within the copyright period (i.e. the composer(s) may be still alive, or the 75 years since their death has not elapsed). . Popular dance-music that draws heavily on traditional tunes, forms and poetry: this category includes all contemporary dance bands, guitar bands, concert-party bands and cultural groups that employ combinations of traditional and modern instrumentalists. These groups play music based on traditional highlife, adowa, agbadza and other folkloric genres, using traditional melodies, poetry, proverbs, lullabies, children's songs, ceremonial songs, work songs, war songs and funeral songs. . Popular Ghanaian music of dance and guitar bands that incorporates folkloric or popular music elements from other African countries, with or without a Ghanaian folkloric content: examples include the local Ghanaian use of ˜Congo Jazz", South African Kwela music and Sene-gambian griot music. . ˜Serious"™ or scored music that draws heavily on the traditional motifs mentioned in (3) above, but is composed, scored and orchestrated for piano or symphonic orchestras. . 'Serious' scored and orchestrated music that includes elements from the folklore of other African countries, with or without a Ghanaian component, such as Pan-African compositions. . Commercialized folkloric music used for cabarets and the tourist trade. . Government/para-statal/university traditionally oriented dance ensembles that are performed on stage and are professionally choreographed. This is the nearest Ghanaian equivalent to the preserved form of ˜folklore" found in Europe and in the United States. . European folkloric elements that are incorporated into Ghanaian music. An example is local Ghanaian gospel music that sometimes uses the melodies of old European hymns and folk songs.

Drama

Two main forms of drama can be identified in Ghana. These forms indigenous (often referred to as traditional), and alien (literary) are the manifestations of the Ghanaian culture, and the manifestation of the Ghanaian culture meeting the European or alien traditions. Whereas by a broad, generalised classification the traditional and literary can be described as representative of the two cultures - Africa and European, there is evolving from the literary group a third form- 'Popular' or the Ghanaian Concert Party - that is a synthesis of both cultures.

Traditional Ghanaian drama assumes two varying styles- sacred and secular. These are manifest in festivals, myth plays, rituals, and storytelling sessions. In fact, traditional drama pervades the very existence of the people from childbirth to death. In fact one can recall the storytelling sessions on moonlit nights when any member of the participating audience could advance and enhance the dramatic presentation by assuming the role of a character in the world of the make-believe. By participating in these sessions, morals and code of social conduct are inculcated in the youth and the old. It served as a non-gender biased learning process of eloquence, and proverbs.

Indigenous drama should, however, not be limited to the confines of storytelling as exists in the rendition and performance of folktales only. It should be opened up to embrace all modes of recounting historical events. The indigenous form has coded historical events into celebrations - festivals that exhibit drama and theatre. Indeed some of the acts may be termed as dramatic but the presence of drama cannot be dismissed. The Hogbetsotso festival of the Anlo, the Homowo of the Ga, the Akwambo of the Fantes, and the Aboakyer of the Efutu attest to this fact.

The Ghanaian concert party, a theatrical form that uses humor and music to tell stories conveying moral lessons, is one of the many art genres that have emerged in this century in sub-Saharan Africa that blend or syncretise local and foreign elements. However, in spite of their acculturated nature, these new art-styles contain distinctive features that express the identities, symbols, aesthetics and underlying value orientations of their African practitioners and audiences. The ability of these new art-forms to reflect and express the moods and outlooks of Africans undergoing rapid socio-cultural transformations is helped by their often ephemeral and transient nature: what Karin Barber (1987:12) calls their 'aesthetic of change'. Moreover, besides popular performance, painting and literature, these new syncretic and creative art-forms go far beyond what in the West is normally called 'art'; for they embrace coffin designs, house decorations and bar murals, portrait photography, hair barbering advertisements, sign writing, wire toy vehicles, decorated bread labels, lorry slogans, current jokes and expressions, and the catch names for printed clothes and hair-styles.

Dance

Ghanaian dance is as diverse as its music. Each ethnic group has their own traditional dances and there are different dances for different occasions. There are dances for funerals, celebrations, storytelling, praise and worship etc. Some of these dances include

Bamaya It is performed by the Northern people of Ghana. It narrates the legend of a time of great drought. An oracle told the people that the drought was brought about by the manner in which the men were severely repressing and demeaning the women. It further stated that the drought would be relieved only when the men lowered themselves to the role they were imposing on the women by putting on skirts and participating in this dance. When the men did this it began to rain. It is currently performed during harvest time in northwestern Ghana by both Dagbani men and women dancers

Adowa A dance of the Ashanti peoples of Ghana.

This dance is especially noted for the grace and complexity of the dancers' movements. The drumming is also noted for the complexity of the interlocking rhythms and the two atumpan drums which are used as the lead or master drum. Originally funeral dance music, Adowa is now also performed at annual festivals and social gatherings.

Kpanlongo Is performed by the Ga people of Ghana. It is often referred to as "the dance of the youth," Kpanlongo started during the wake of Ghana's Independence as a musical type for entertainment in Accra. Kpanlongo is presently performed at life-cycle events, festivals, and political rallies.

Klama Is the music and dance associated with puberty rites of the Krobo people of Ghana. It emphasizes the graceful movement of hands and feet. With small rhythmic steps and heads turned demurely downward, the dancers embody quiet elegance. The different movements of the dance are designed to reveal the beauty of the dancers. Suitors watching from the sidelines will often approach a girl's family after the ceremony and make an offer for her hand in marriage.

Agbadza

The traditional dance of the EÊ‹e (Ewe or Eve) people of Ghana. It is characterized by the graceful choreograph of a couple seasoned with the rhythmic movement of the arms, the waist and the feet in perfect synchrony. Agbadza, is traditionally a war dance but is now used in social and recreational situations to celebrate peace. War dances are sometimes used as military training exercises, with signals from the lead drum ordering the warriors to move ahead, to the right, go down, etc. These dances also helped in preparing the warriors for battle and upon their return from fighting they would act out their deeds in battle through their movements in the dance.

Atsiagbekor is a contemporary version of the Ewe war dance Atamga (Great (ga) Oath (atama) in reference to the oaths taken by people before proceeding into battle. The movements of this present-day version are mostly in platoon formation and are not only used to display battle tactics, but also to energize and invigorate the soldiers. Today, Atsiagbekor is performed for entertainment at social gatherings and at cultural presentations.

Atsia dance is performed mostly by women, and its a series of stylistic movements dictated to dancers by the lead drummer. Each dance movement has its own prescribed rhythmic pattern, which is synchronized with the lead drum. 'Atsia' in the Ewe language means style or display.

Boboobor (pronounced Borborbor) the Ewe-speaking people in the central and northern parts of the Volta Region of Ghana cultivate the Boboobor dance. Boboobor" (originally 'Akpese') might have originated in the Kpando area, and is said to have been created by the late Mr. Francis Kojo Nuadro. He is thought to have been an ex-police officer who returned to Kpando and organized a group in the middle to late 1940's. The dance has its roots in the 'Highlife' popular music of Ghana and other West African countries. Boboobor gained national recognition in the 1950's and 1960's because of its use at political rallies and the novelty of its dance formations and movements. It is generally performed at funerals and other social occasions. This is a social dance with a great deal of room for free expression. In general, the men sing and dance in the center while the women dance in a ring around them. There are 'slow' and 'fast' versions of Boboobor; the fast Boboobor is believed to come from the Kpando area and the slow version from Hohoe. The slow one is called Akpese and the fast one is termed to be Boboobor. Lolobi-Kumasi is known for doing a particular fast version of the slow version.

Agahu is both the name of a dance and of one the many secular music associations (clubs) of the Ewe people of Ghana, Togo, and Dahomey. (Gadzok, Takada, and Atsiagbeko are other such clubs). Each club has its own distinctive drumming and dancing, as well as its own repertoire of songs. A popular social dance of West Africa, Agahu was created by the Egun speaking people from the town of Ketonu in what is now Benin. From there it spread to the Badagry area of Nigeria where migrant Ewe fisherman heard, adapted, and eventually took it to Ghana. In dancing the Agahu, two circles are formed; the men stay stationary with their arms out and then bend with a knee forward for the women to sit on. They progress around the circle until they arrive at their original partner.